In the Afterlight
Author: Alexandra Bracken
Page Count: 535
Publishing Information: Hyperion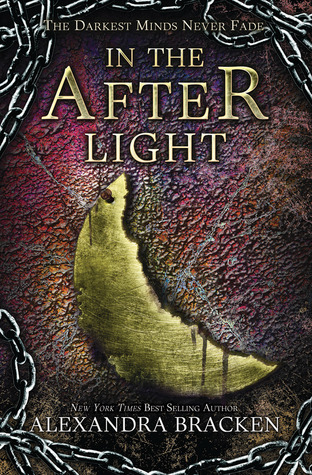 This is the conclusion to the Darkest Minds trilogy, so if you have not read The Darkest Minds and Never Fade, I warn you now that this post will contain spoilers for those two books. If you have not yet started the series, please do so because it is just fantastic. If you would like to know my thoughts on The Darkest Minds, check out my review.
Ruby can't look back. Fractured by an unbearable loss, she and the kids who survived the government's attack on Los Angeles travel north to regroup. With them is a prisoner: Clancy Gray, son of the president, and one of the few people Ruby has encountered with abilities like hers. Only Ruby has any power over him, and just one slip could lead to Clancy wreaking havoc on their minds.
They are armed only with a volatile secret: proof of a government conspiracy to cover up the real cause of IAAN, the disease that has killed most of America's children and left Ruby and others like her with powers the government will kill to keep contained. But internal strife may destroy their only chance to free the "rehabilitation camps" housing thousands of other Psi kids.
Meanwhile, reunited with Liam, the boy she would-and did-sacrifice everything for to keep alive, Ruby must face the painful repercussions of having tampered with his memories of her. She turns to Cole, his older brother, to provide the intense training she knows she will need to take down Gray and the government. But Cole has demons of his own, and one fatal mistake may be the spark that sets the world on fire.
(Synopsis Provided by Goodreads).
I thought that this was a great conclusion to a series very close to my heart. There was immense character development, twists and turns, and the usual humor Bracken is able to fit into her books. If you are hesitant to pick up this thrilling conclusion after reading Never Fade, please pick it up! It will be worth it in the long run.
I was not highly disappointed by this book, the only thing I felt was missing was a road trip because I loved that aspect of the first and second books the most! I just felt like without it this book didn't have as big of a sparkle as the other ones did. And I was expecting more Clancy, but he wasn't in the book as much as I thought he would be, but I'm okay with that since Clancy is not a very nice person.
The end wrapped everything up nicely and it made me smile. I was happy with how it ended. I mean, of course I want some more of the story because I love it, but I am satisfied with how it ended.
Overall, this books made me laugh, nearly cry, smile, and scream. This book took me on an emotional ride and I really enjoyed it and you need to read it too if you haven't yet.
Star Rating: 4.98
"Everyone needs reality to punch them in the face every once in a while. Keeps you on guard."
-In the Afterlight, Alexandra Bracken